This post was originally published on this site
https://allrapnews.com/wp-content/uploads/2020/09/HIT-rapper.jpg
With a name synonymous with what it takes to have longevity, Long Beach's very own aims to dominate the rap game.
Michael Tyler, known to the music industry as H.I.T, is a multitalented artist from California's soil. He possesses a wide array of musical skills that has given him the recognition he has built up today. While he is versatile as a rapper, singer, and songwriter, he paid his dues with dedication and determination to become an expert at his craft.
H.I.T's musical ties began sprouting at a young age. He was fortunate enough to have parents whose taste in music gravitated to that of the classics of the 80's. This would ultimately find itself rooted within H.I.T as his Mother and Father would sing their favorite tracks about the home, introducing him to the seeds that would bloom as he progressed in life. His passion for music was sparked, and soon a fire was ablaze within him. His love for music followed him throughout high school, and upon its completion he could no longer be held back from his destiny. H.I.T made the decision to pursue music full time, and it would be the decision of a lifetime.
H.I.T wasted no time diving right into music, creating his rap group "Lifestyle" which comprised of his longtime friend Bada Bing, who was the younger brother of Snoop Dogg. This move allowed him deeper access into the workings of the industry and only aided in doubling down on his grind. Having a partnership with Bing, Lifestyle had a leg up on the competition. With the connection to Snoop Dogg, they had the advantage of learning from the best in the game and being in the era where Death Row held the throne it was like a goldmine of knowledge and wisdom. Add that to the fact that he was a resident at Snoop Dogg's, "The Dogg House", H.I.T went from studying in the academic classroom to taking hip-hop lessons where he began learning how to format songs and record a complete album.
As he grew more comfortable with music and began creating his own style, H.I.T made the leap to becoming a solo artist. This step would lead to the release of his hit street single "Drama" which brought him many fruitful opportunities like being featured on Pharrell's "Ice Cream" DVD, MTV's "Making the band", EA sports game "Skate", and even finding himself as a feature in The Source Magazine's "Off the Radar" article. His name was buzzing all across the music industry and his worth as an artist opened doors for his elevation. H.I.T would go on to add business unto his resume by partnering with Pro-skater Terry Kennedy, New Orleans spitter Curren$y and Producer Fuzzy Felix to create the music label and fashion apparel/skate brand "Fly Society." Fly Society's popularity skyrocketed in the underground scene. From headlining sold out Boost Mobile Tours, having their own reality show on BET, to Fly Society's Clothing Line capturing the market, H.I.T was becoming more than an artist, he was becoming a brand.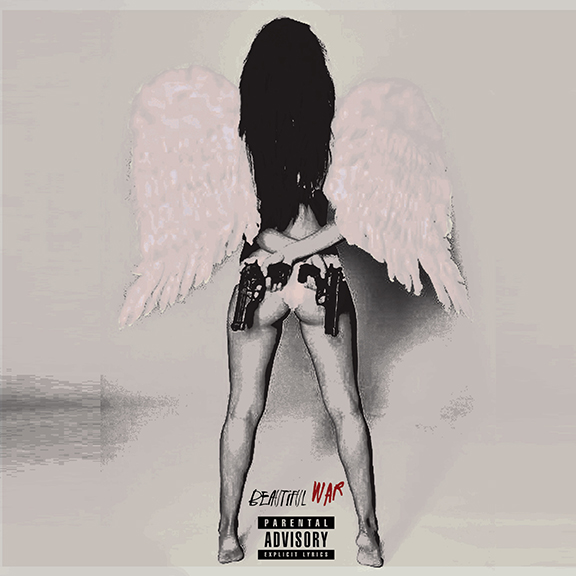 With the success he has had in all of his musical and business endeavors, H.I.T is again creating a movement, planning to launch his upcoming media and fashion apparel brand "Ruined Mnds." Given the status to which Fly Society rose, Ruined Mnds is most certain to continue setting the trends that H.I.T is known to create. H.I.T is accompanying his new business venture with the release of his upcoming album "Beautiful War". The album promises to be fresh and dynamic in what its sound will bring to the industry; an electrifying experience as described by the man himself. It is slated to be H.I.T's best body of work yet. Blending rhythms and melodies together with intoxicating beats and impactful lyrics. H.I.T does what he's known for best, fusing storytelling and lyrical wordplay with new age R&B melodies which can only lead to a classic album, just like those his parents once sang to him. Beautiful War is a trip, a journey through H.I.T's personal life drawing from his relationships and issues stemming from social injustice, and his struggle with self-identity. Songs like "Fuck Without Feelin's" and the wavy "Controlla" gives off summertime energy while speaking on the woes of navigating intimacy in 2020. Transitioning to tracks like "Understand Me" which illustrates H.I.T's deeper level of awareness, H.I.T has on his hands, an album that will bring mainstream recognition and take his craft and brand even higher.
H.I.T has a timeless album on his hands and cannot wait to expose it to the world. Follow H.I.T on his accounts and join him as he embarks on his new chapter via the link: https://solo.to/hitmusic
About Post Author